When people think of Queensland beaches – the Gold Coast is one of the first places that come to mind.  Starting at Rainbow Bay on the Queensland / New South Wales border and stretching- the Gold Coast has over 70 km of coastline and some of the state's best surf beaches.
Gold Coast Beaches include South Stradbroke Island, The Spit, Main Beach, Surfers Paradise, Broadbeach, Mermaid Beach, Nobby Beach, Miami, Burleigh Beach, Burleigh Heads, Tallebudgera Beach, Palm Beach, Currumbin Beach, Tugun, Bilinga, Kirra, Coolangatta, Greenmount, Rainbow Bay, Snapper Rocks and Froggies Beach.
As well as the coastal beaches, the Gold Coast has several km of gorgeous tidal waterways which are perfect for swimming and water activities such as stand up paddleboarding and kayaking.  Some of these waterways include Southport, Budds Beach, Marine Stadium, Currumbin Alley, Tallebudgera Estuary, Jacobs Well, Jabiru Island, Paradise Point, Harley Park Labrador, Santa Barbara, Boykambil and Evandale Lake.
Below I have listed some of the best beaches the Gold Coast has on offer.
1. Rainbow Bay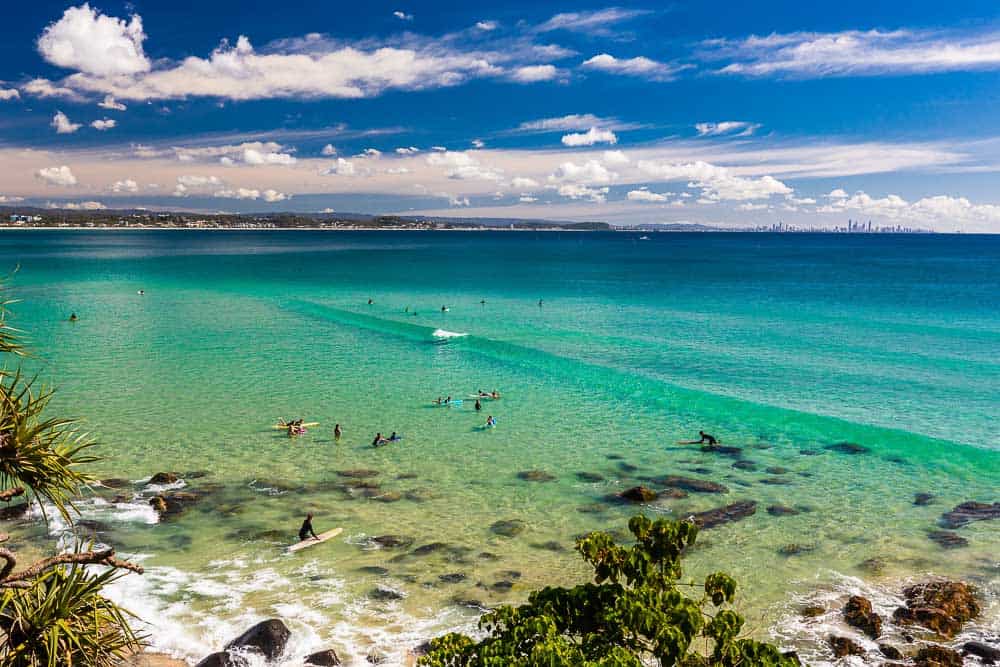 At just 300m long, Rainbow Bay is a relatively small beach, which is located just over from the New South Wales border.  Rainbow Bay is a beautiful north-facing beach and is a great swimming beach as well as being a popular spot for surfing.  
Around Rainbow Bay, you will find mostly a few old school style accommodation, which also means accommodation here is relatively inexpensive compared to other parts of the Gold Coast.
In terms of shops and places to eat – you won't find much on offer in Rainbow Bay – however, just a short walk away is Coolangatta where you will find plenty of shops, restaurants and even a cinema.  Rainbow Bay does however have its own Surf Life Saving Club which has a great deck overlooking the bay.  The club serves lunch and dinner daily and breakfasts on the weekends.
In my view – Rainbow Bay is among the best Gold Coast beaches for families.
2. Tallebudgera Creek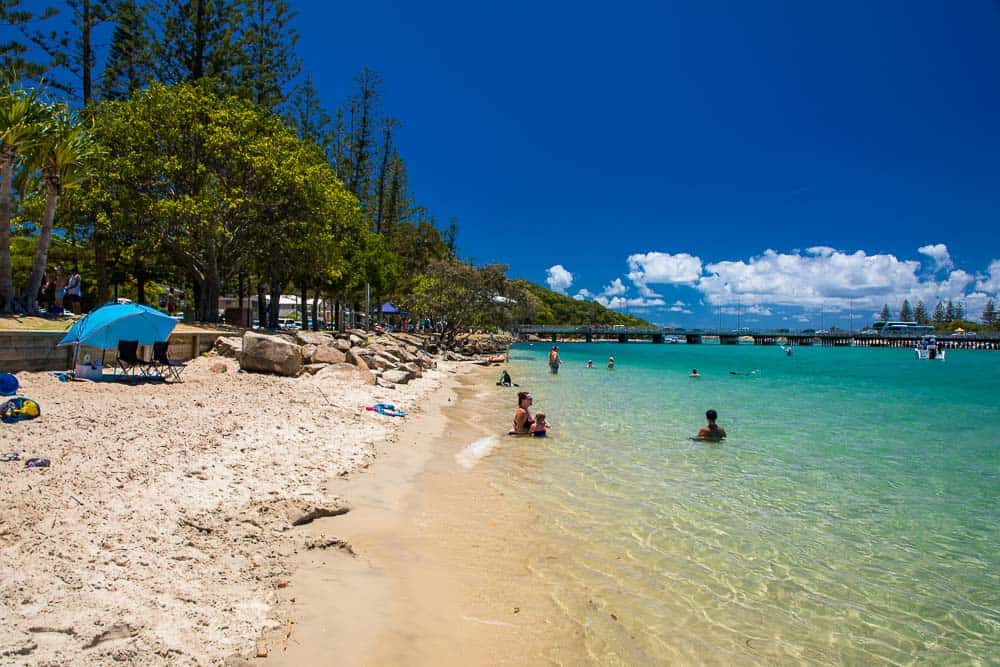 While not technically a beach, given how picturesque Tallebudgera Creek is, it seemed wrong not to include it in this Queensland best beaches guide.  Tallebudgera is a gorgeous spot, with powdery white sand and piercing blue calm water, just perfect for swimming.  It's also an excellent spot for water activities such as stand up paddleboarding and kayaking.
Given it is a creek, you can enter Tallebudgera either via the southern entrance of Burleigh Head National Park or on the palm beachside which is where you will find the area patrolled by lifesavers.  The Palm Beachside is also where you will find parking (but not a lot).
Click here for accommodation in Tallebudgera.
3. Burleigh Beach

Contributed by Maureen from "So Many Places! So Little Time!"- Online travel magazine & blog
Burleigh Beach on the Gold Coast is yet another one of the best Queensland beaches Australia offers for families. Burleigh Beach is a two kilometre-long stretch of squeaky white sand and surf, and the beach is patrolled. 
The beachfront features a treelined path the entire length, which is perfect for walking or bike riding.  The area also has plenty of picnic and barbeque facilities as well as clean toilets and showers along the way.  Take a picnic or a barbeque on Sunday nights to the beachfront Justin's Park and be entertained by the fire twirlers, dancers and bongo drummers.
There is a surf club at both ends of the beach which is ideal for taking part in that so popular past time of the local Queenslanders, of sitting out on the decks overlooking the beach and enjoying breakfast, lunch or dinner. There are also plenty of cafes, restaurants, and fast food outlets to satisfy whatever food cravings you and your family have in Burleigh, and you will find some interesting boutiques and specialty shops in James Street.
Burleigh Heads National Park is at the southern end of the beach and leads over the hill to Tallebudgera Creek (see above), which has a great safe swimming spot for younger children.  Burleigh Beach is also close to the great Currumbin Wildlife Park, and you can also easily do day trips to the other theme parks from Burleigh if that is in your plans.
Click here for accommodation in Burleigh Heads.
4. Surfers Paradise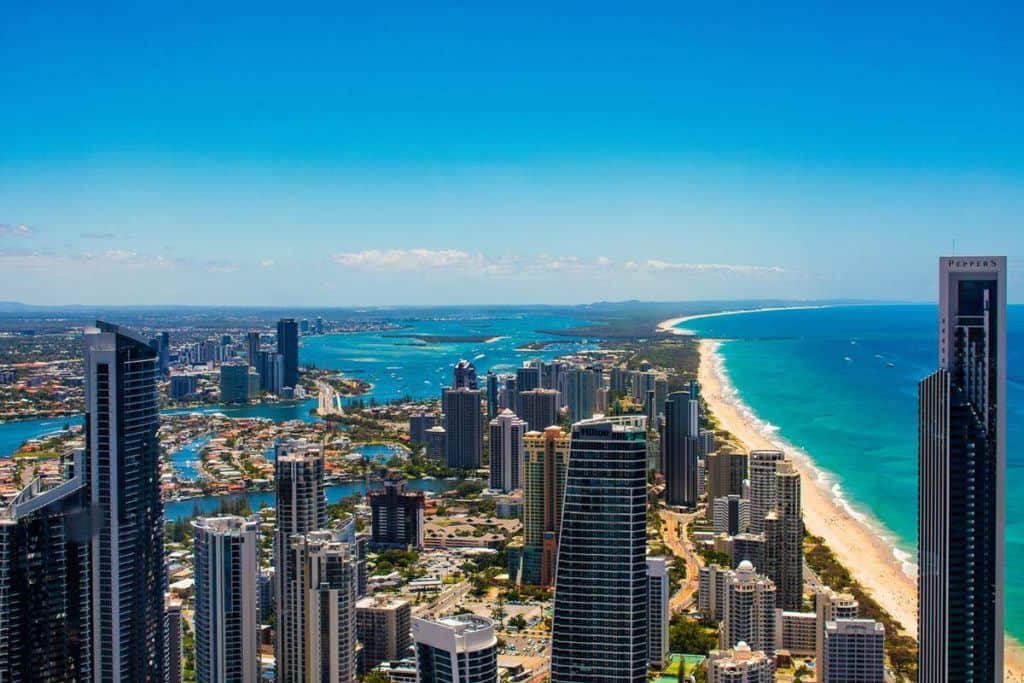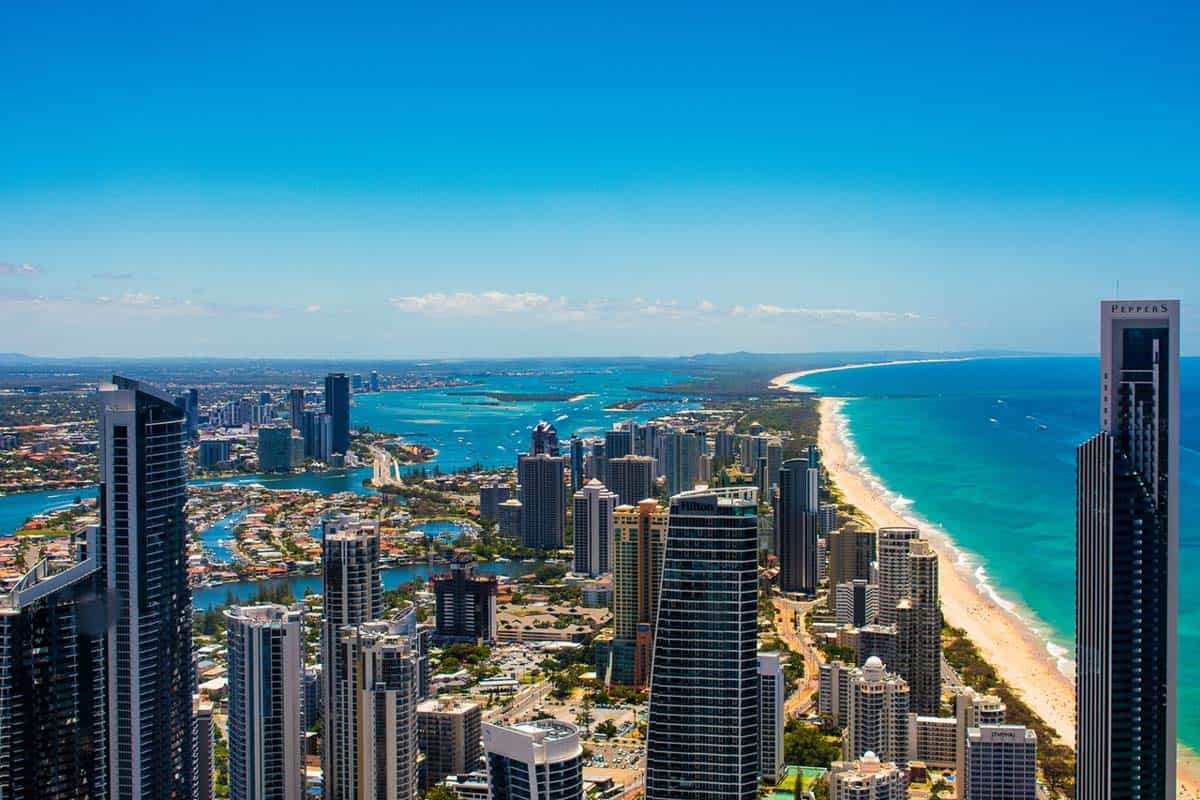 The most touristy spot overall on the Gold Coast, there is a stack of things to see in Surfers Paradise, so this is the ideal location if you want to be in the heart of it all.  There is also a stack of fantastic restaurants and shops and a gorgeous stretch of beach for swimming.  Click here to read our full guide on Surfers Paradise with kids.
Like all Gold Coast beaches, the Surfers Paradise beach is stunning.  The beach is a 3 km long golden stretch of sand which is regularly voted as one of the best not only in Australia but in the world.  Plus it's accessible for everyone!  The Surfers Paradise Surf Life Saving Club provides beach wheelchairs, accessible beach access at, a mobile hoist and volunteers to assist in ensuring everyone can enjoy this gorgeous Qld beach.
Aside from the beach – there is a stack of things to do around Surfers Paradise for families.  Attractions include the Aquaduck, Ripley's Beleive it or Not, Time Zone, Putt-Putt, Jet Boats, Infinity, SkyPoint Observation Deck, and loads more!
Surfers Paradise is very popular though – so if you aren't into crowds, might be best to stay at one of the other stunning Gold Coast beaches.