The Sunshine Coast has over 100km of pristine coastline and is one of my favourite places to holiday in Queensland.  The Sunshine Coast beaches are just stunning with wide sandy beaches and a great range of both surf beaches and calm waters.
The Sunshine Coast beaches start in the south at Caloundra and stretch all the way to Noosa in the north.  Beaches in this region include Noosa Main Beach, Sunshine Beach, Sunrise Beach, Castaways Beach, Marcus Beach, Peregian Beach, Coolum Beach, Marcoola, Mudjimba, Alexandra Headland, Mooloolaba, Kawana Waters, Dicky Beach, Moffat Beach, Shelly Beach, Kings Beach and Golden Beach.
Below I have listed some of the best beaches the Sunshine Coast has on offer.
Bulcock Beach – Caloundra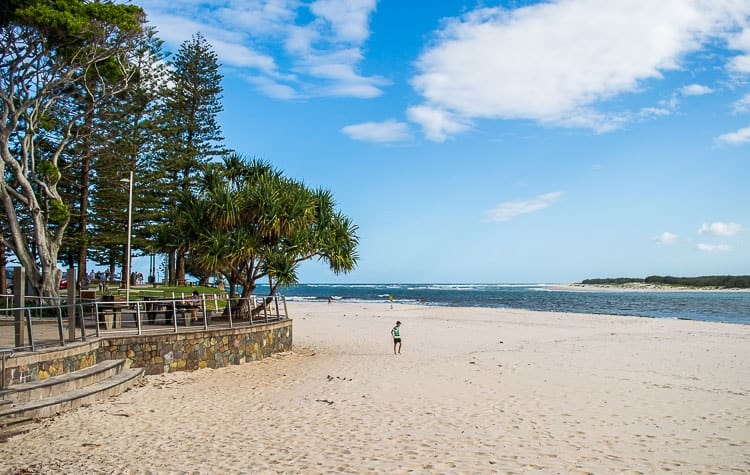 Bulcock Beach is a popular Caloundra Beach with families, particularly ones with small children due to the combination of both soft waves and calm waters.  This is one of my favourite beaches in Caloundra.  Click here for our full guide on Caloundra beaches.
This is also the place to be if you need to be close to shops as all the main shops and cafes of Caloundra are 5 minutes' walk away, including cinemas.
There is also a gorgeous park at Happy Valley, with large trees providing lots of shade and plenty of green lawn for picnics.  The kids will love the playground area, there is a large fort and pirate ship both with various climbing equipment and slides.  There is also swings here.  
There is an excellent range of Caloundra restaurants and cafes along the Esplanade like Hello Harry, Drift Bar, Tides Waterfront, The Coffee Club, Sand Bar (for fish and chips), Drift and Hog's Breath Caloundra as well as ice cream at Gelato Rumba.
Bulcock Beach accommodation includes Rumba Beach Resort, Cerulean Apartments, Monaco Resorts, Waterview Resort, Breakfree Grand Pacific, the Waterford Prestige Apartments, Joanne Apartments, Centrepoint Apartments and Tranquil Shores.
Click here for accommodation around Bulcock Beach.
Mooloolaba Beach

Contributed by Christina from Travel2Next
Located between Noosa and Caloundra, Mooloolaba Beach has earned a reputation for being one of the Qld best beaches and a fantastic strip of sand for a family vacation.
There are many reasons why Mooloolaba Beach is one of the best Sunshine Coast beaches for families. One of the reasons is that this beach is conveniently located right across the road from shops, boutiques, galleries, cafes and restaurants along Mooloolaba Esplanade. Another good reason why this is one of the best beaches in Queensland for families is there are lots of picnic tables, barbecues and playgrounds.
Within walking distance of the beach is Mooloolaba Wharf, which is packed with new eateries. This is also where you'll find Sea Life Sunshine Coastwhere the kids will love being up close to seals, sea lions, penguins, sharks and other marine life.
Mooloolaba Beach is a year-round destination but if you're planning to visit during school holidays, make sure you book early as it's an extremely popular place to visit for a family beach holiday.
There's a huge range of apartment-style accommodation to suit all budgets. Most are within a few minutes' walk from the surf, which makes it easy for families to spend time on the beach.
Click here for accommodation in Mooloolaba.
Coolum Beach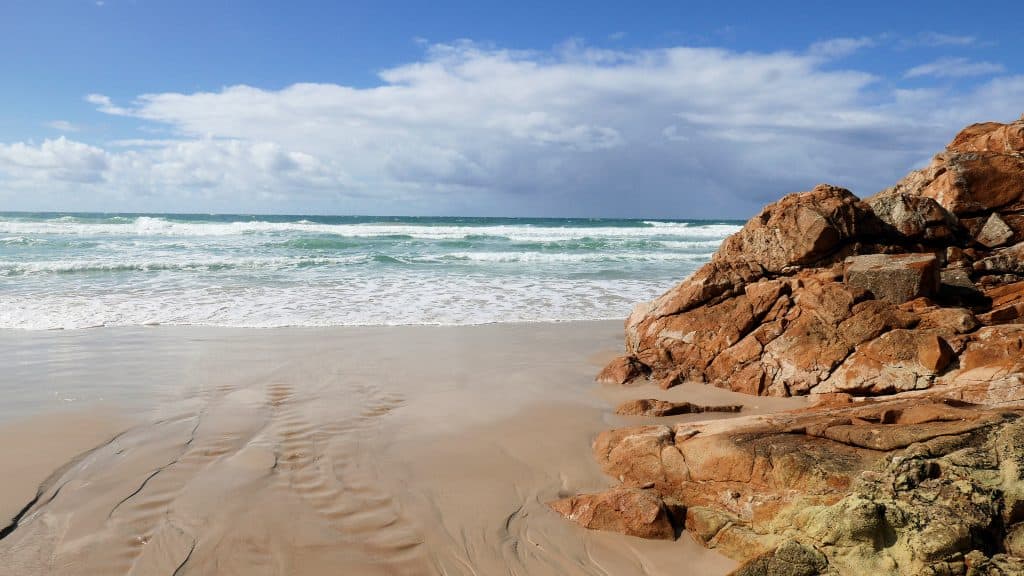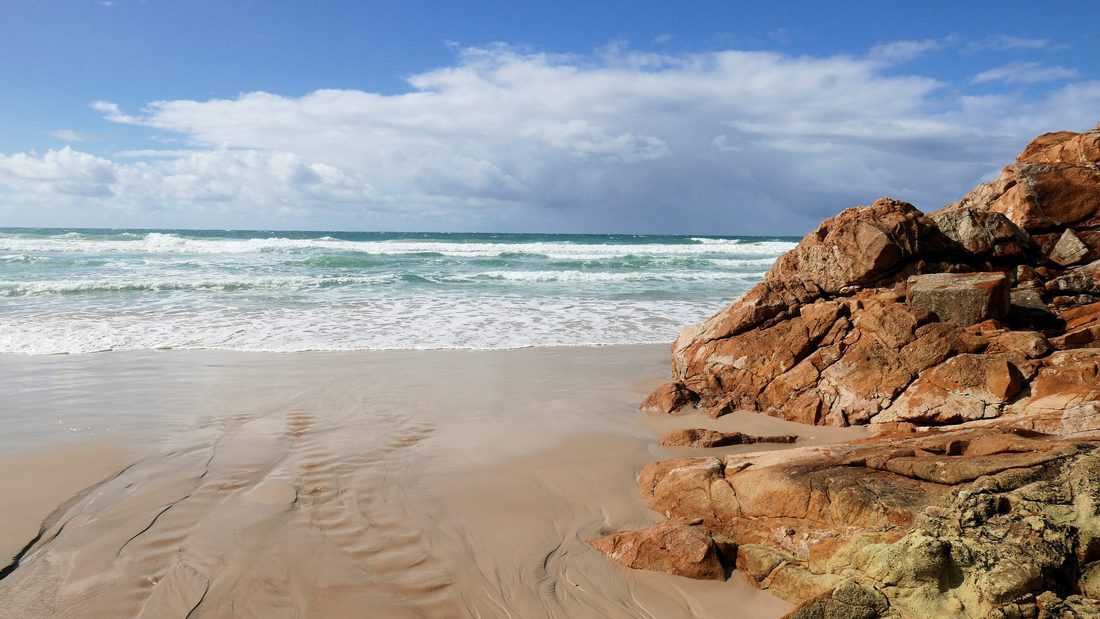 Contributed by Sinead from Map Made Memories
Coolum Beach is a small coastal town stretching along the Sunshine Coast approximately a 1 ½ hour drive north of Brisbane. The beautiful beach is long, clean and unspoilt. It is popular with dog walkers, joggers, people fishing and families playing games on its enormous expanse of sand. The beach never feels busy or crowded and has a friendly, relaxed communal vibe.  Coolum is much quieter than neighbouring beach towns.
Coolum makes a great base to visit nearby attractions such as Noosa, Eumundi Markets or the fantastic Australia Zoo in Beerwah. Alternatively, enjoy a scenic hike in the local Mount Coolum National Park which offers breathtaking 360 degree views of the coast.
The highlight of our stay at Coolum Beach was having family surfing lessons from the local surf shop. The excellent instructor had our three children standing on their boards and surfing the waves by the end of their first lesson! 
Sunshine Beach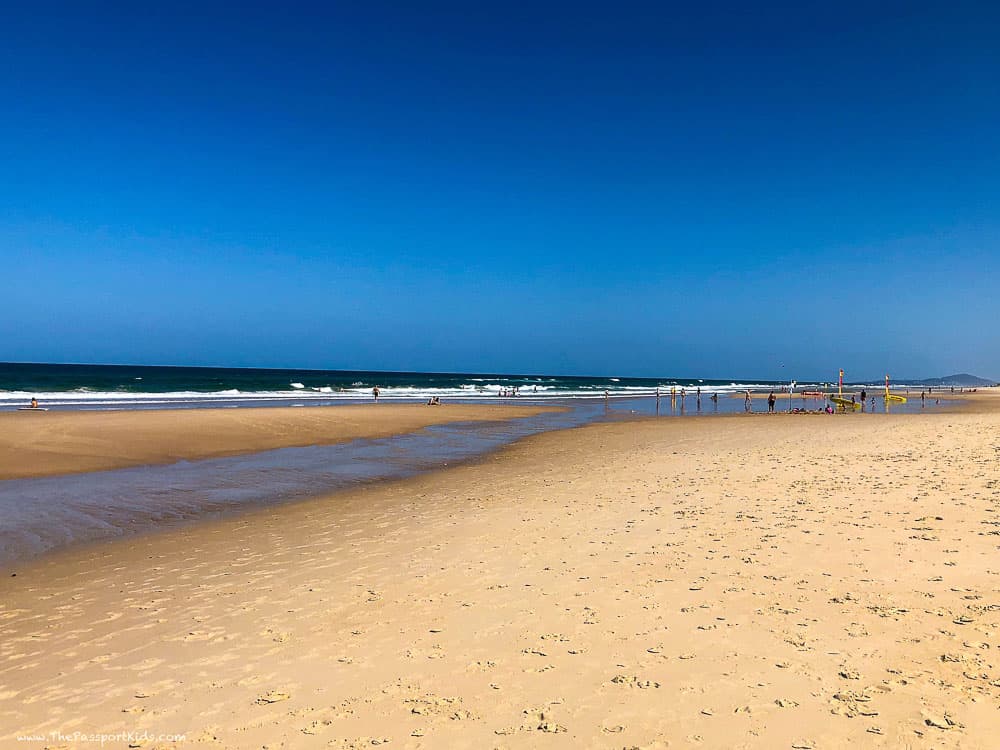 Contributed by Nicole from The Passport Kids
Sunshine Beach is located in Noosa, Queensland and offers a quieter beach for families to go to in this holiday area. It is a fantastic beach that locals go to for their beach days for swimming, surfing and beach fun in the golden silky smooth sand.
There is also a great 5km family hike called the Noosa Heads Coastal Walk which goes from Sunshine Beach to Noosa main beach. This is a great way to spend part of a day walking on this path to get a great bird's eye view of the beaches below, and if you are lucky you may see some koala's that are in the area too!
Like all beaches, it is recommended that families swim in the designated areas that are patrolled on the beach. The beach has washroom facilities, showers, picnic areas, food services and other amenities for an easy family day at the beach.
Click here for accommodation in Sunshine Beach.
Little Cove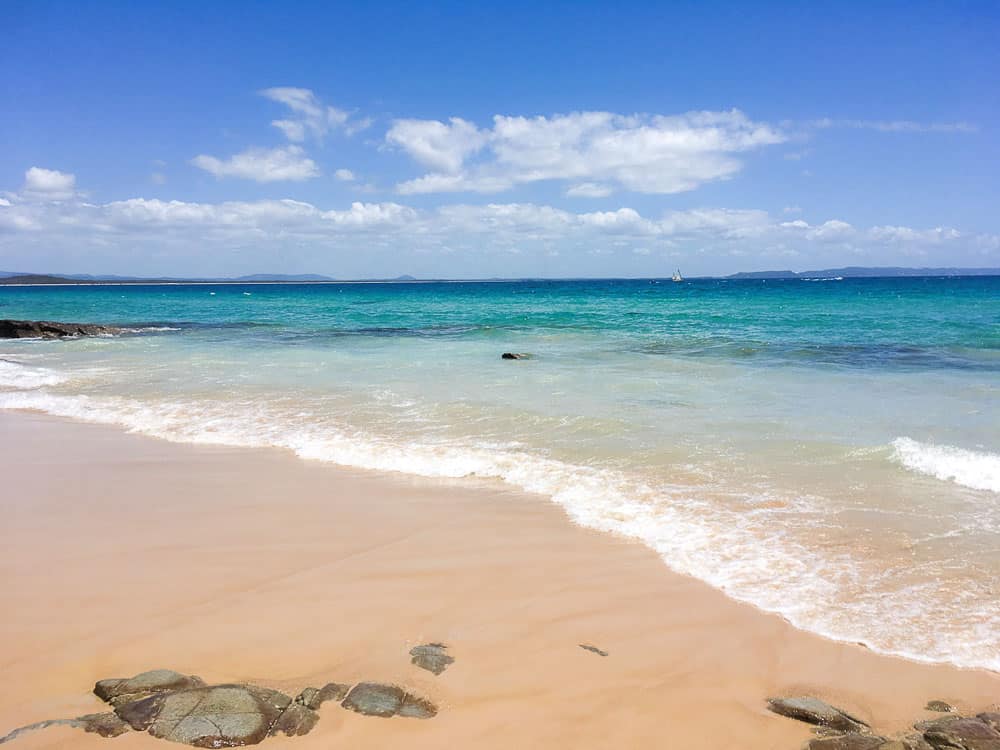 Contributed by Gigi from Beach Addicted
If you are heading to the Sunshine Coast in Queensland, make sure to stop in Noosa Heads. Noosa Heads is a little beach town with many cute shops, cafes and of course many beautiful beaches. One of the best beaches in Noosa and my personal favourite is Little Cove. Compared to the main beach in Noosa, Little Cove is smaller and an ultimate paradise for every beach lover.
Little Cove is a popular hot spot for surfers, paddle boarders and of course the ones who just want to enjoy swimming and seek a calm atmosphere. In the summer months Little Cove is busier than in winter months but the water is warmer.  If you want to explore other beaches, then a couple of minutes walk, there is a beautiful National Park where you can choose from 8 amazing walks. Don't forget to look up, and if you are lucky, you might spot a koala hanging in a eucalyptus tree. The coastal walk is breathtaking, with many beaches to stop by and the possibility to visit the magical Fairy Pools.
There is also awesome resorts just 2 mins walking such as Noosa Cove and Little Cove, which provide beautiful apartments perfect for families. They are fully contained and have a beautiful sea view overlooking Little Cove Beach. However, if you want to beat the crowds and have more affordable hotels, then winter months are the best.
Click here for accommodation in Little Cove.
Noosa Main Beach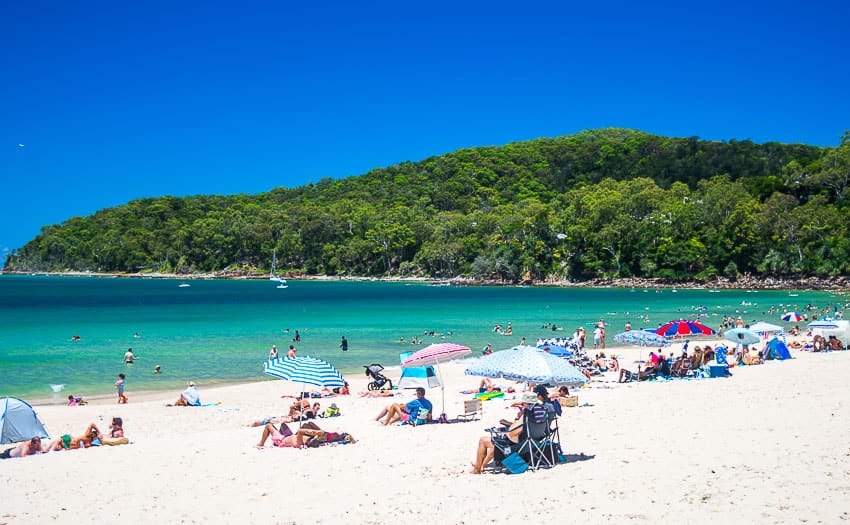 Contributed by Sharee from Inspire Family Travel
When I hear someone asking for advice on the best beach Queensland has, one that always springs to mind is Noosa Main Beach. An easy two-hour drive north of Brisbane, Noosa is one of the Sunshine Coast's most popular coastal towns home to trendy cafes, family-friendly accommodation, crystal-clear rock pools, coloured dunes, lush National Parks, and of course superb beaches.
What's most appealing about Noosa Main Beach is it's one of the most family-friendly options along the east coast as the beaches north-facing outlook provides natural shelter. Patrolled year-round, the calm waters are ideal for families who are less confident in the ocean or would prefer gentle waves.
The soft sand and blue waters are also within walking distance of the famous Hastings Street. The beating heart of Noosa is always a hive of activity, with many options for beachfront accommodation, and local cafes suited to all appetites found along the strip. With everything in one central location, a day trip to the beach is an easy family activity.