While Brisbane is located inland and not on the coast, if you're after some of the best beaches near Brisbane I'd recommend you head to the nearby islands of North Stradbroke or Moreton.  On these islands, you will not only the best beaches around Brisbane but also some of the very best beaches in Qld.  
5. Main Beach – North Stradbroke Island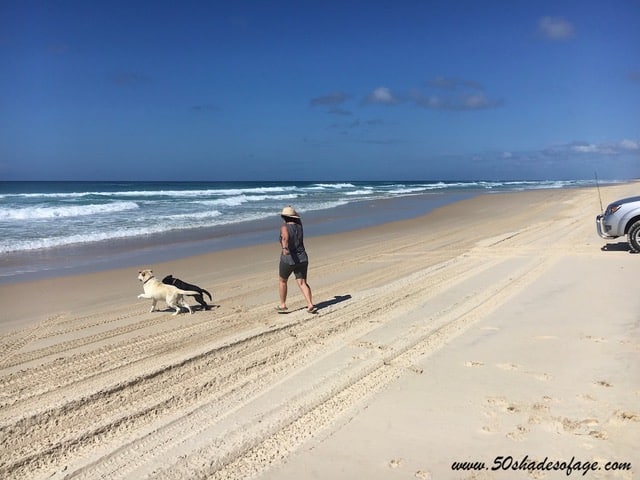 Contributed by Kathy from 50 Shades of Age
North Stradbroke Island is a large sand island, located in Moreton Bay east of Brisbane.  To reach the island it is an enjoyable 45-minute ferry ride across Moreton Bay.  
Once you head across to the ocean side of the island and the town of Point Lookout where you can access the pristine Main Beach.  Main Beach is perfect for swimming, surfing, beach walking and fishing.  Main Beach is also a haven for four-wheel drive enthusiasts with it's 32 Km long stretch of beach accessible just south of the Point Lookout Surf Club. Drive along the wide sandy beach with the surf rolling in along the shoreline all the way to Jumpinpin Bar.
Main Beach is best enjoyed by spending a few days and camping.  Set up camp amongst the sand dunes in one of the designated campgrounds and enjoy your own private beach. Beach fishing is extremely popular along this stretch of beach with naturally forming gutters on the shores.
Other things to do on North Stradbroke Island include exploring some of the other pristine beaches on the island; visiting the freshwater lakes including Blue Lake, Brown Lake, the Keyholes, Eighteen Mile Swamp and Myora Springs; launching your boat from Amity Point for a day's fishing; hiking on some of the scenic walks; or taking a tour along the Goompi trail with a local Aboriginal guide and learn about the Quandamooka people, artefacts, traditional hunting methods, bush tucker and bush medicines.
Click here for accommodation on North Stradbroke Island.
6. Amity Point – North Stradbroke Island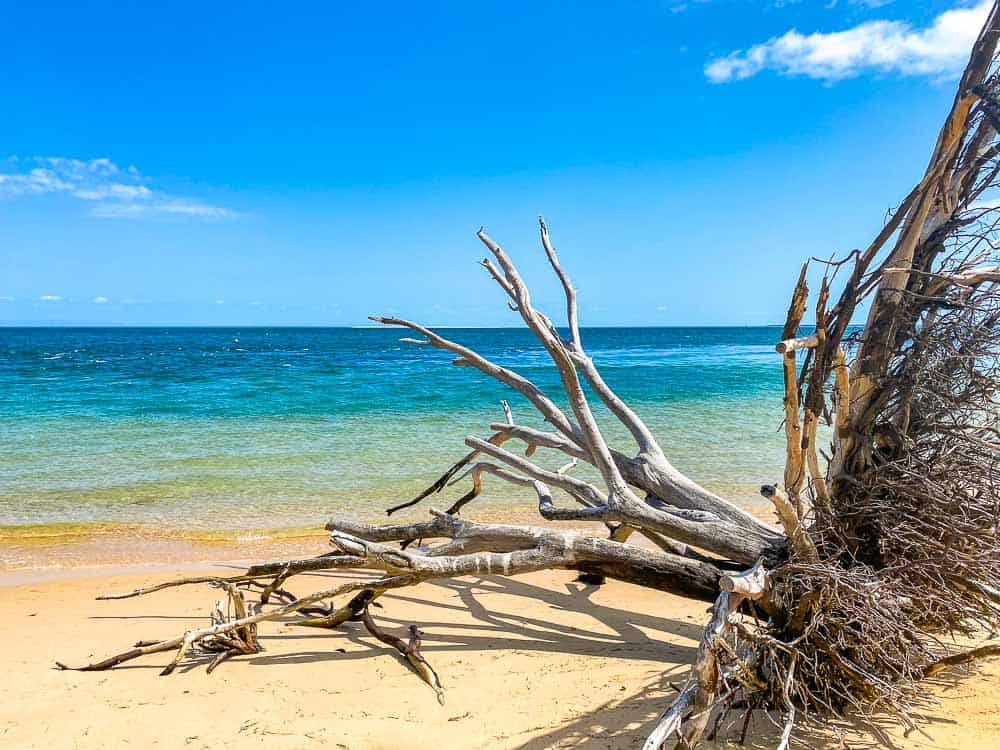 Amity Point is a lovely little seaside village, located on the gorgeous North Stradbroke Island and the Amity Point camping ground is a fantastic place to come for a few days with family and friends.  With its bright, calm turquoise water and quiet leafy green streets full of wildlife, it's the perfect place to unwind and relax from life's everyday routine.  Click here for our complete guide on things to do at Amity Point.  
As you can see from above the water here is calm and crystal clear.  It is the perfect spot for swimming, snorkelling or water activities such as stand up paddleboarding and kayaking.  It is also a great spot for spotting wildlife.  From the shores of Amity Point, you can see dolphins on a daily basis as well as pelicans.  At the campground here you can also see the resident koalas.
If you plan on spending a few days at Amity Point, your best bet is to stay at the campsite.  However if camping isn't your thing there are also a few private houses in the area that you can hire too.
Amity Point is easily accessed by ferry.
Click here for accommodation in Amity Point.
7. Tangalooma Wrecks Beach – Moreton Island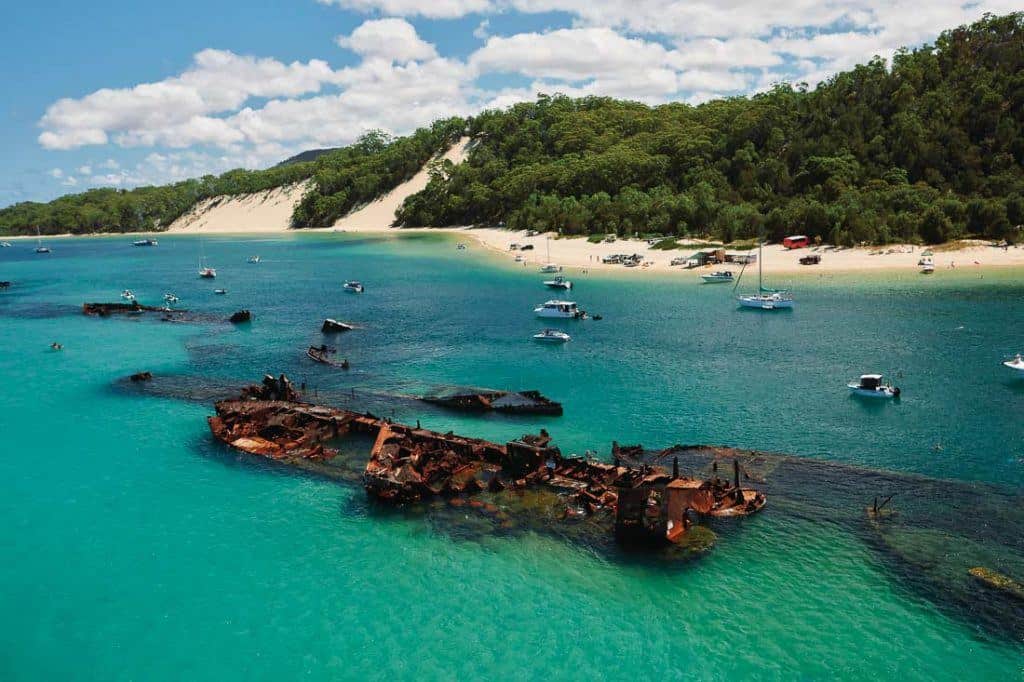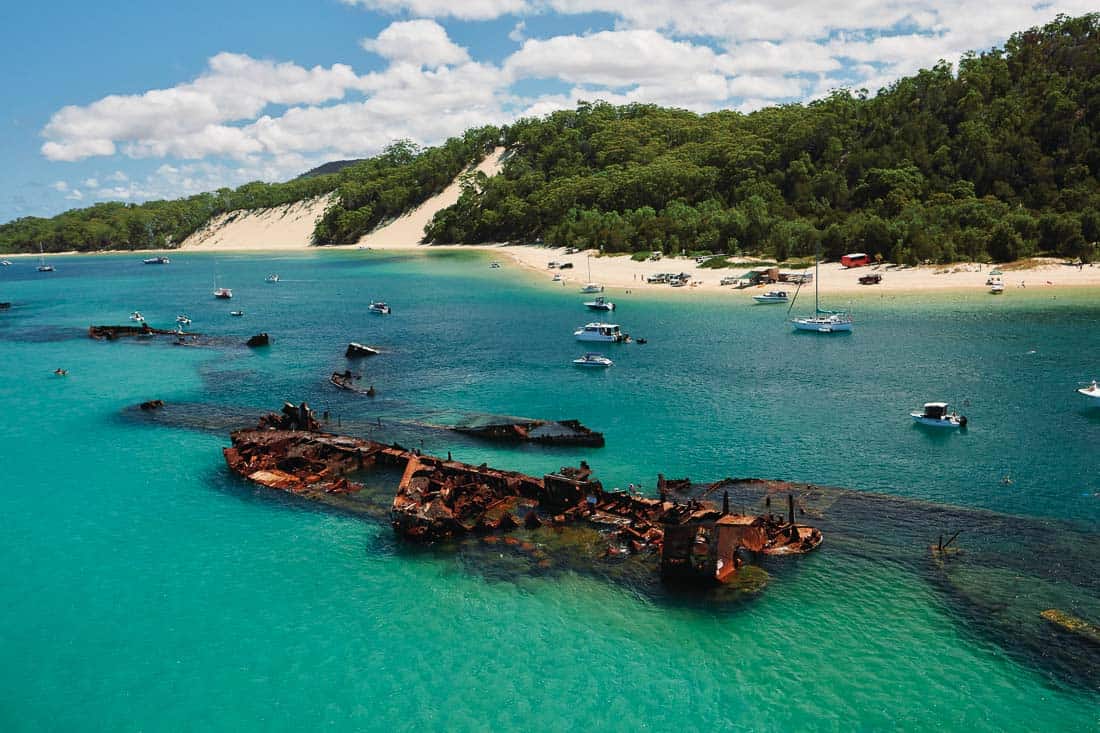 Contributed by Amanda from Fly Stay Luxe
What makes Tangalooma Wrecks Beach one of the best beaches in Queensland, Australia? Well, for one, nowhere else in Australia (and quite possibly the rest of the world) can you snorkel among 15 shipwrecks, literally metres from the sand.  
Located on Moreton Island, just off the coast of Brisbane, 'The Wrecks' beach is a relatively undiscovered hotspot in Queensland. But this man-made marine wonderland is becoming more and more popular by the day, as tourists flock to the island to experience snorkelling, diving, SUP or kayaking in clear bottom boats!
Tangalooma Wrecks Beach is easily accessible from Brisbane via the Tangalooma Passenger Ferry or Micat Vehicle and Passenger Ferry. Many people visit Moreton Island on a day trip. But if you spend a night (or two) at Tangalooma Resort or The Wrecks Campsite, you'll be able to experience a few of the other activities on offer at Moreton Island, including sandboarding, ATV experiences and sunset dolphin feeding. Moreton Island is a great day out for the family!
Click here for our full guide on visiting Tangalooma.
8. Streets Beach – Southbank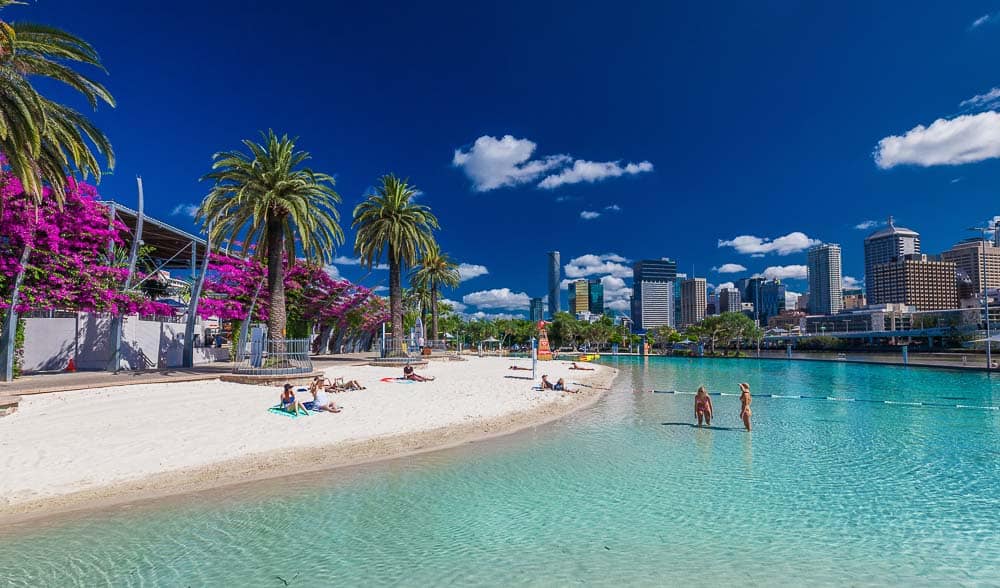 If you're after a Brisbane Beach – then head to the gorgeous man-made Streets Beach in the Southbank Parklands.  This Brisbane artificial beach is Australia's only inner-city beach which has a massive blue lagoon and provides fantastic views across the city's skyline.
As well as the sparkling blue lagoon, there is also a giant swimming pool called the Boat Pool as well as Aquativity, which is an interactive splash park for the kids.  Between the various water attractions, there are also man-made rock pools and streams which are perfect for the little ones to cool off in.
One of the best things about this Southbank beach Brisbane offers – it's completely free to enjoy!  It is also patrolled year-round by qualified lifeguards too.  As well as the beach, South Bank has various playgrounds, restaurants and cafes and makes a great day out for everyone.  Click here for our full guide on things to do in Southbank.
Click here for accommodation around the South Bank Parklands.